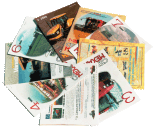 Magazine "Selskiy Mechanizator" is the main guide of agroengineering scientific discoveries, ideas and developments in Russia and other neighboring countries. You can find theoretic and practical information about equipment improvement for agro-industrial complex and first of all for farming industry. Offered materials promote technological, economic and organizational innovations in different sectors of agro-industrial complex. The main attention of edition is the perspectives of effective innovations in technical fields by using scientific researches.
More then fifty years experience of the magazine made it popular in scientific and theoretical fields, and among development engineers, scientists, practical producers, students and chiefs of agricultural companies, and simple farmers.
"Selskiy Mechanizator" is the guide of scientific progress for practical use.
"Selskiy Mechanizator" is included in the list of leading reviewed magazines of the Higher attestation commission at the Education and Science Ministry of Russian Federation.
Research and Production Monthly magazine established by the Agriculture Ministry of Russian Federation and LLC "Niva".
It is founded in 1958.
Each issue has 40 pages.
Magazine is distributed by subscription in Russia and CIS countries and abroad too.
Chief editor is Gorbachev I.V. – doctor of agricultural sciences, professor, corresponding member of the Russian Academy of Sciences.
Address: 127550, Moscow, Listvennichnaya alley, house 16a, building 4
Tel. 8 (499) 977-71-66, Tel./Fax: 8 (499) 977-24-92
E-mail: selmech@mail.ru
The editorial board of "Selskiy Mechanizator"
Index: 70815 – for six months
47815 — annual subscription
Magazine sections:
[Arsenal farmer] [Peasant Academy] [Economy and Practice]
[State Technical Supervision] [Proposing of innovators] [Technique – long life]
[From the teaching – to mastery] [Energy: Challenges and Solutions]
[Driver – car – road] [On farms and complexes]
Article requirements
Procedure of the Manuscripts
The editorial board